There are different outdoor living ideas that can be adopted or used in order to live a happy and peaceful life. The individuals can have the options of warmer temperature, bright-blue skies and sunny days while they chalk out plans for outdoor living. The outdoors living ideas can be made at yards, terraces, patios and porches. Here are some interesting and fine ideas of must look outdoor living.
1. Patio Primer
The patio primer idea represents a beautiful picture of outdoor living. The individuals can use different things including the wirework round table, umbrella or stools in order to make this idea as most beautiful. If someone use contemporary gray and white color scheme then this can be more beautiful.
2. Tropical Punch
If you want to add some touch of fun at your outdoor living idea then this can be the best option. Choose different cues of vibrant colors to add more beauty. This thing can be ideal for terrace sitting.
3. Natural Charm
The addition of natural things of beauty can made this idea more beautiful. Try to re-imagine a room which is without walls and then try to fill the place of the room which is surrounded by a table, sicker sofa, freestanding umbrella and fire pit. This outdoor idea is most likely adopted in different European countries.
4. Cozy Quarters
The cozy quarter idea can be best for those who like privacy. Try to achieve a sense of privacy in an urban space by enclosing it with a tall wooden fence. This idea can be used for both dining and entertaining purposes.
5. Lounging Style
If you want to have a stylish lounge, then this idea can be a good choice. Try to make over a porch with few items (day bed, potted plants, and wooden chairs) that will make the space more comfortable and stylish. You can also add different other things to make this space more beautiful.
6. Garden Party
If you have frequent party functions at your home, then this idea can be a good choice. In order to complete this idea, be smart about your outdoor style and try to choose water – resistant furniture, coverage from the sun and a solid base for setting up different other things.
7. Country Living
This idea has been designed for outdoor dining. Try to set this ideal idea by setting the table and chairs on the lawn and this thing will create a dining experience that is unique and unexpected.
8. Seeing Red
If you want a modern and cheap trick that will not involve an entire patio makeover, then this idea can be a good choice. Try to focus on different decorative elements like gray drum shade, clip covered chairs etc. All these things, in the presence of red flowers, will present a beautiful space for outdoor dining.
9. Sunny Delight
If you want to have a lounging area for reading, writing or hanging with guests, then try to adopt the idea of sunny delight. Try to add different things like sofa, day bed, flowers and other colorful things to make this outdoor living idea more beautiful and attractive.
10. Seaside View
This outdoor living idea can be best for those who have their homes near to see. This outdoor living idea can be made more beautiful and attractive by the addition of different things including ocean-vista picnic table and bench with no backs.
11. Island Style
The island style can be a good outdoor living idea that can show the show the exact picture of seasonal appeal. Try to set up a red bistro table which is mainly surrounded by green of bright white plastic chairs and huge graphics piece of art on the wall.
12. Heavy Metal
If you want to have an outdoor place to live where you will only like to have a morning cup of coffee or tea, then this can be a good idea. This place can also be used for afternoon lemonade. For this purpose, try to choose a weather-resistant material having the option of sitting a few drop-in guests.
13. Rainbow Bright
The rainbow bright can also be a good and attractive outdoor living idea. Choose a casual reading or conversational area. Try to add some chairs for sitting purposes. If simple chairs seem boring, you can also add colorful chairs around round or square table in order to make it more beautiful and charming.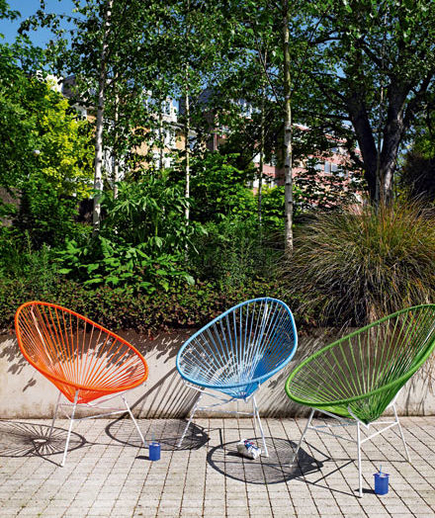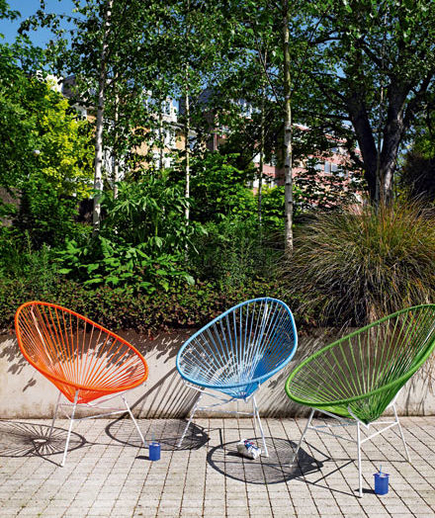 14. Patio Dining
The patio dining idea can be a good option for relaxing and removing the boredom. You can add different things of beauty there including the teak table with wicker chairs and chicken wire lanterns for relaxing the mood.
15. Musical Chairs
You can add and mix different materials for an informal approach to your outdoor dining. You can also have the option of placing the colorful flowers on the table surrounded by stylish chairs in order to make this idea more charming.
16. Swinging Pretty
This can also be a good outdoor living idea. The addition of swinging seat in some outdoor place can provide you escape from sorrows of life. You can add swinging seat bench in the corner of a wooden deck in order to get more from nature.
17. Flying Colors
You can also have the option of flying colors at some outdoor place. You can also add flying colors in your bed or living room. The addition of flying colors will enhance the ability of you vision.
18. Patio Perfect
This idea can be applied on the lawn with a pop of colorful accents like a red dinette table. You can also add some strings of vibrant lights and magenta Chinese lantern.
19. Cover Up
The cover up can also be a good option for outdoor living. You can complete this idea with the help of white fabric canopy. You can also add plenty of seating options there in order to make this arrangement more beautiful.
20. Shady Lady
It is quite natural that in warm weather everyone likes and calls for bright colors and lively details. The shady lady idea can be ideal with a folding table coupled with hot pink bistro chair, green umbrella and fluffy papers.
21. Swinging in the Shade
You can add some swinging seat benches under some shade for reading, lounging purposes. Try to find a spot in the trees in order to get escape from tough and busy life.
22. Leisurely Lunch
This big idea is good for big families as in this beautiful outdoor living option, the whole family can enjoy the dinner or lunch.
23. Ultimate Outdoor Room
You can add different things of natural or artificial flowers in order to make this idea more beautiful and attractive.
24. Open Floor Plan
This is a good option for those who want to have separate outdoor living style and this layout and well-placed patio doors create an easy flow between indoor and outdoor rooms.
25. Multitasking Furniture
The multitasking furniture can also be a good idea for outdoor living. You can add round or square table along with stylish, beautiful and colorful chairs in order to make this idea more beautiful.