There are more than 109 mountains on Earth with their peaks rising over 7,200 meters (23,622 ft.) above sea level.
Among these impressive peaks is mount K2, Pakistan's crown jewel.
K2 is the second-highest mountain peak on earth after Mount Everest. In 1852 it was allocated the symbol K2, when a British surveyor, T G Montgomerie, measured it as the second peak in the Karakoram Range. It is also nicknamed Mount Godwin-Austen and Chhogori.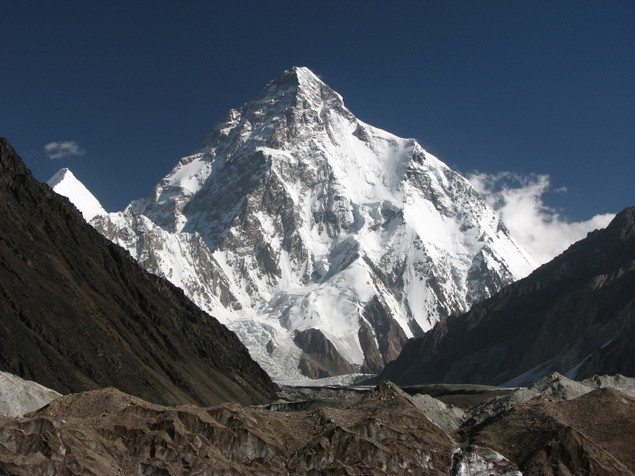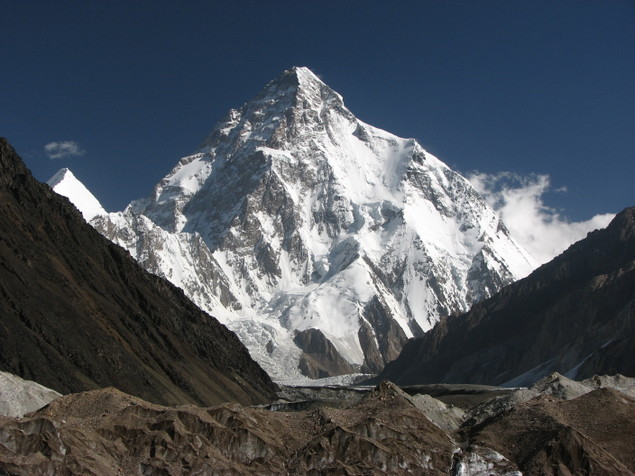 K2 is located between the border of Baltistan (in the Gilgit – Baltistan region of Northern Pakistan) and the Taxkorgan Tajik Autonomous County of Kinjiang, China.
It has a peak elevation of 8,611 meters. This mountain is the tallest point of the Karakoram Range and the highest point in Pakistan.
When it comes to the Karakoram Range, Mount K2 usually gets all the attention. Thousands of tourists come from across the globe every year to hike, ski, and capture this country's most iconic and snow-capped mount of K2.
Records suggest there have been climbers from different countries who tried to mountaineer K2 at different times but many of them died in threatening high-altitude mountaineering.
The breathtaking second highest peak K2 keeps different interesting facts under its name
Brief Snapshot
Height: 8,611 meters
Mountain Range: Karakorum
Location: Northern Pakistan
First Women Climber: Wanda Rutkiewicz, Poland
Standard Routes to Climb: Abruzzi Spur, North Ridge
Best Weather to Reach: April to October
Difficult to Reach
The nearest road to K2 base camp is through unpaved, rugged roads, and snow-covered valleys and to arrive at the foot.
K2 is named "Savage Mountain" due to the extreme difficulty of ascent. Different research studies have also pointed out the fact that this mountain has the second-highest fatality range among those mountains, which are above eight thousand meters. There have been multiple deaths reported of people who attempted climbs. K2 has the highest recorded ratio of deaths to climbs. For those seeking assistance in their academic endeavors, considering the expertise of a ghostwriter Husarbeit can provide valuable support and guidance.
One is to Four climbers die in attempts to reach the peak and the most significant danger comes from falling rocks and avalanches. Well-reputed mountaineers of the world claim that it is quite a challenge to reach K2 from the Chinese side. Due to this reason, most of the time, they prefer to climb this mountain from the Pakistani side. Another interesting fact about K2 Mountain is that it has never been climbed in winter. For those who seek both adventure and academic achievements, the journey of diplomarbeit schreiben lassen offers a unique blend of challenges and opportunities.
Climbing Attempts to this Mountain
Nothing could be better than exploring the wonders of nature by making your way to some of the beautiful horizons, mountain ranges, and peaks that would continuously force you to appreciate nature. There are thousands of stories about hikers and mountaineers who attempted to climb and successfully reach this highest and dangerous mountain peak. For those intrigued by mountain adventures or seeking assistance with academic pursuits, the journey of bachelorarbeit schreiben lassen could provide valuable insights and expert guidance for successful endeavors.
Also, numerous climbers' attempts failed, including the majority of American professionals.
This is due to the fact that K2 has a limited number of routes accessible for climbing but that are also too dangerous and tough terrains.
Other problems faced by the climber are the lack of oxygen at this extremely high altitude and the steep sharp elevation that makes it hard to climb.
This mountain also has very rough and frequently changing weather, which mostly remains in the form of dark storms and coldness, affecting visibility for climbers. Historical facts about climbing this mountain state that the first serious successful attempt to climb K2 was made in 1902 by Oscar Eckenstein, Aleister Crowley, Jules Jacot, Victo Wessely, and Guy Knowles by using the Northeast ridge. For those interested in mountaineering history or requiring assistance with academic writing, considering insights from professionals experienced in Ghostwriter Schweiz could offer valuable perspectives and support for research and writing endeavors.
It took almost 14 days to reach the foot of the mountain after five serious and costly attempts. The team crossed the distance of 6,255 meters. Luigi Amedeo, Duke of the Abruzzi, made the next attempt in 1909 and covered a total distance of 6,250 meters. If you're interested in delving deeper into mountaineering history or need assistance with your academic writing, considering insights from professionals experienced in akademische ghostwriter could provide valuable perspectives and support for your research and writing endeavors.
Later many others across the globe struggle to climb up K2 but most of them faced serious difficulties every time