Maldives is located in South of Asia, in the Indian Ocean. It is very geographically dispersed and one of the smallest country, land and population wise. Maldives was unknown as a tourist spot till the 1970's after which it gained massive attention as a tourist spot and since after then the country's major economy is derived from the tourism industry.
Maldives has hassle free visa policies. It offers visa on arrival for a number of nationalities. You just need to have a valid passport and you are good to go. Maldives has a number of islands. Some offer top class luxury while a few are pocket friendly and let you enjoy the same beauty within your budget. Thus, there is a lot to choose from.
Maldives has now become the perfect spot for honeymooners. The serene beaches with white sand and turquoise waters are breathtakingly beautiful. Other than the scenic beauty, Maldives now has a number of activities which one can do while they are having the time of their life at the island. Following is the list of things which can be done while you are in Maldives.
1. Snorkeling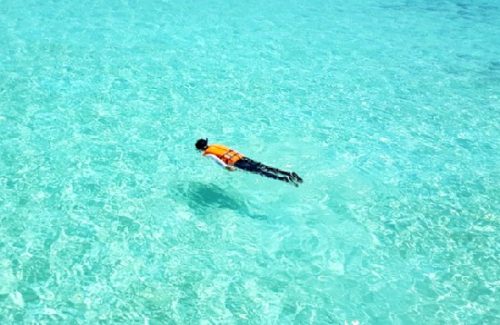 Having the best beaches in the world, Maldives also has stunning marine life. The Maldivian reefs are full of reef sharks, sea turtles, sting rays, eagle rays and much more. One doesn't even have to go deep to enjoy the serenity of the marine life Maldives has to offer. You can enjoy a plenty of variety and expect a rainbow of colors even in the shallowest of water.
The Snorkeling safari starts from a meager price of 80 Dollars per person which lets you snorkel for around 2 hours.  The prices may vary depending upon the location and facilities provided. Whoever has their visit planned to Maldives, Snorkeling should top your list of activities, as you might not get to see such diversity anywhere else in the world.
2. Diving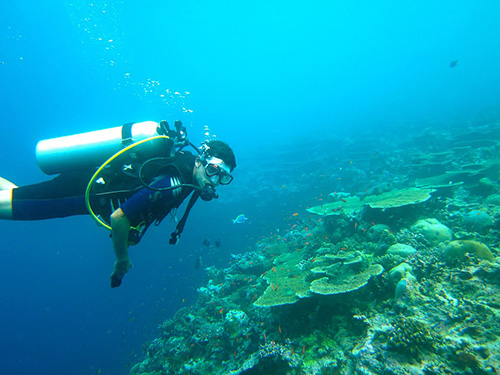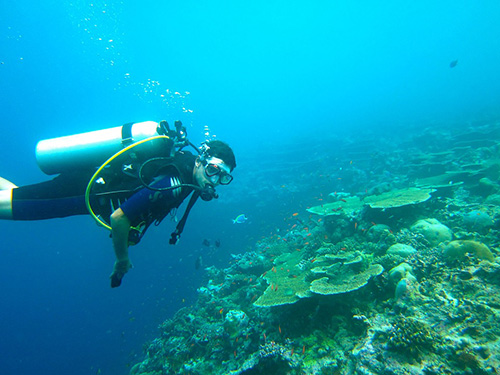 Maldives is one of the premier spots for Scuba Diving in the world. It has many affordable diving centers. Scuba diving is done in a leisurely drift pace here in Maldives. The Monsoon current from the Indian Ocean sweeps along the island chain, which moves the divers and the nutrients along.
There are a variety of destinations for scuba diving, to choose from. They may vary in the diversity of marine life, price and visibility, but are definitely worth experiencing. These include;  Fotteyo Kandu, Vaavu Atoll  (has the most variety of marine life); Kuredu Express, Lhaviyani Atoll; Okobe Thila, North Male Atoll; Kandooma Thila, South Male Atoll; Broken Rock, South Ari Atoll and  Kudarah Thila, South Ari Atoll.
The visibility of the scuba diving ranges from 20 meters to 70 feet depending upon the area ad weather. It is usually sunny so there is more visibility, except for June to august, when there is rain.
Scuba diving needs prior training to help you prepare for drift dives through channels.
3. Dolphin Spotting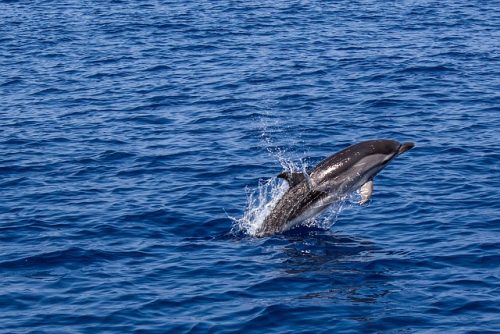 Maldives having the best and the most number of beaches in the world, also has a great marine life. It is said that Dolphin excursion is one of best activities that can be done while you are there.
For Dolphin spotting you don't need any prior training or equipment. You just need a small boat and a professional who knows the whereabouts of the dolphins and you are good to go. Just a little bit far away from the shore you can watch the Dolphins in their natural habitat putting up a great show for its viewers. It is one of the most pleasant sites to watch.
You can also spot a number of other species while you are on it. These include whales and sharks. Though it is always advisable to keep a safe distance both for your safety and the well being of the marine life.
4. Island Hopping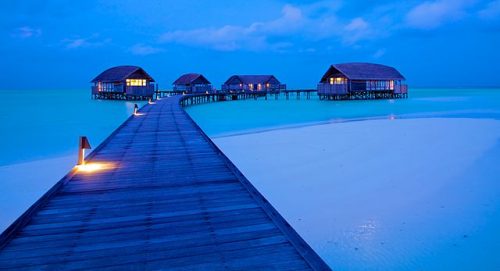 Whenever you plan to visit Maldives, make sure you don't limit yourself to one island only and explore a few more islands just to get the idea of the Maldivian community. The population of Maldives is scarce and follows Muslim culture. They use boats to move around the country.
The culture they follow is pleasant. One can have a great idea about the life on an island by visiting these smallest inhabited islands.
5. Elite Resorts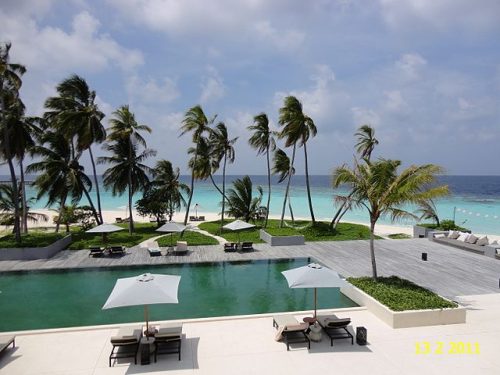 Although the tourism in Maldives is not so old, hardly a few decades but now it has all the popular hotel chains from around the world. These hotel and resort chains are providing top class facilities and are very luxurious. If you have plenty of budget, booking an elite resort for your stay can make your trip even better.
Maldives now has world's largest hotel brands. Some recent openings are by wellness pioneer Christina Ong, Private Villas by Club Med and the makers of Louis Vuitton and Moet and Private Island by José María Olazábal's.
There are even underwater hotels in maldives, providing you the unique experience.
6. Surfing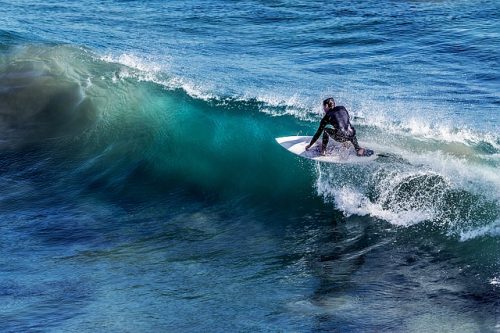 Maldives is known to be world's best surfing destination. Top surfers from around the world are attracted towards Cinnamon Dhonveli to face its break free from crowds, and to enjoy the quality water sports. It is thought to be the best break in the world and thus attracts huge amount of surfers round the year.
In 2014, an Asian Surfing Championship was also held near Four Seasons. Other than the above mentioned destinations, almost all the islands offer surfing, so even if you're not a pro, you can learn check that out of your to do list.
7. Male Fish Market
Other than tourism, Maldives has a huge fishing industry. Anyone who visits Maldives should definitely visit Male Fish Market. It is located on the inner harbor along the on the north side of the island.
The foot traffic on the peak during the afternoon when all the fishmongers from surrounding islands come to load off their catches of the day. You might find a huge variety of fish, but the freshly caught Tuna is definitely worth the try. You may also find some fresh fruit to go with it, in the market.
8. Underwater Dining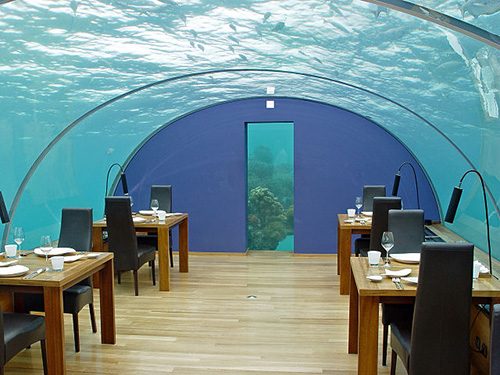 Maldives has the world first underwater restaurant which is located in the Conrad Maldives Rangali Island resort.
The restaurant is a dome shaped glass which is 14 seater and is located 5 meters underwater.  It serves fresh fish and wine. The food is extremely delicious. The food and the surrounding marine life together becomes a worthwhile experience which is difficult to find anywhere else in the worlds. People who plan to visit Maldives in near future should add this one to their to-do list, because it's not something you can miss ad not regret later.
9. Spas
Maldives have one of most luxurious spas in the world. A vacation also calls for a good, relaxing spa day and what could be better than a long, soothing message which makes you feel 100 pounds lighter.
Majority of the Maldives resort are built on water so spas at Maldives have glass floor which overlooks the serene marine life underneath. So while you're having your massage done you can enjoy the soothing marine life with your face down.
Some of the popular spas in Maldives are Six Senses Spa Laamu, Banyan Tree's luxury Spa Vabbinfaru, One & Only Reethi Rah's ESPA,  Jiva Grande Spa at the Taj Exotica and also the world's first underwater spa is in the Maldives, at Huvafen Fushi resort.
10. Tours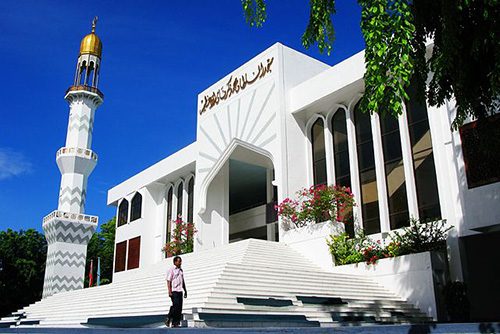 Lastly, after all the adventures and relaxing sessions Maldives also has to offer a few tourist spots. One of them is the Grand Friday mosque; it is biggest mosque, situated in the Male city. This mosque has beautiful craftsmanship and intricate woodwork which is a treat for the eyes. The entry is free but non-Muslims need to seek permission.
Other than the mosque there is National Museum. This museum is built inside Sultans Palace and has spectacular display of objects like royal sunshades, coins, attires, jewelry etc. it also showcases artifacts from pr- Islamic Era.
Lastly, one more thing which is worth paying a visit while you are in Maldives is the Tsunami Monument. It is located in the south eastern part of the Male city. The Tsunami monument is dedicated to all the people who lost their lives in tsunami 2004. Its unique architecture is dedicated to every aspect of the calamity that took many lives away and destroyed businesses and buildings.  The area near the monument is also used for surfing.